Dear Readers:
To follow along from the beginning:
Part 1 of my story.
Ah, so where was I. Oh yes. 150 lbs and very very unhappy. I would look in the mirror and cry. I didn't want Duncan to look at me, much less touch me. I was happy in my career, happy in my marriage, but I did not like myself. I associated being thin with being happy. So there you go.
This brings me pretty much up to the second creation of this blog and answering a casting for a fitness before and after program from Beachbody , which came to be known as Rev Abs. Lets go back there shall we?: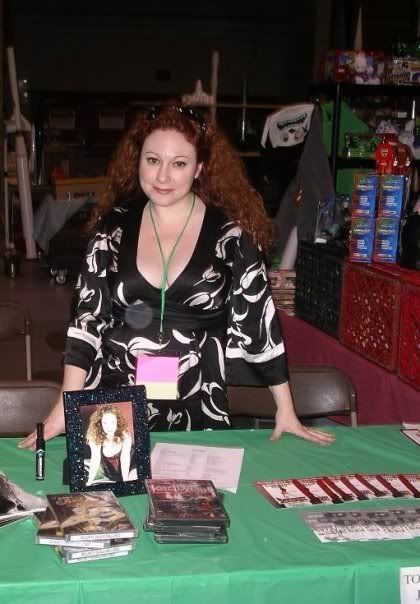 At a film convention signing autographs at my heaviest :((
So I guess I got it wrong. Maybe I didn't want to remember it right. I guess at my heaviest I was 160 lbs in 2008. I hit rock bottom. (the same weight as when I was 9 months pregnant with Ana , I might add). But lets not skip ahead.
So...... I join in on this program. RevAbs. And I commit to 6 workouts a week.(daily, in the morning). 5 meals a day (delivered by a service). No carbs, no sugar, no milk products. No crap. And I show up and I work out and I eat healthy and I feel great. Make some new friends. I start to look forward to my hard daily workout. I adore Brett and his positive spirit. And I lose weight. A lot of weight.
November 2008:
Feeling great and glowing. This was taken at the end of 2008. I was strong. (look at those legs) and feeling great. And yes, I still do have that dress. :)
Which brings me to:
I ended up at 128 lbs and lots of muscle. I was a size 4. I felt tiny. I don't look tiny, but I look healthy and that seems to be more important now that I am turning 40.
Boy, I would like to look like that again. And I will. My stomach muscles are starting to pop above the little pot belly left behind by Ana. And I have the 2 lines down the middle of my stomach.
Lets put this in perspective:
So Rev Abs kicked my booty. Inspired me to join a wonderful NYC gym Equinox and I continued to workout about 5 to 6 days a week. I looked wonderful. I had a cool job, felt svelte and sexy and loved buying a whole new wardrobe for my new fit body. I was starting to get into boxing in Beacon with Leona Brown. I loved it. I had found a new passion.
And then:
Enter dramatic music.
And then I went to a wedding in South Carolina (love you Katie.) where I played with and held my 2 new nieces. The inevitable (and what I thought was impossible) happened. I got Pregnant. GASP. This was late October 2009.
And one of my first (very selfish ) thoughts was: UGH, there goes all of my hard work on my abs. HA! Can you imagine. Thats what I thought and then the shock wore off and I was so excited and happy to be healthy and ready for a baby. I already didn't drink, ate healthy food. And being that I was an older mama, had gotten my body in the best shape to hold a baby inside.
Me at 35 weeks in my brand new (to me) home.
But a lot of stress happened all at once. I was pregnant. Moved up to the country permanently, gave up my job. Took time off from my career. Left my social life and friends behind. City mouse to country mouse. DINKS to SAHM. Argh, it was strange. I loved my new house and my new town. But I was scared to have a baby. So I ate. And ate. And ate. I gained somewhere in the neighborhood of 30 lbs when I was pregnant bringing me right back to you, yep you guessed it :160. Where I started at the beginning of the Rev Abs journey. My rock bottom. But :
SO really this next part should be part 3. But instead I will shorten the story and sum up the first 2 years of Ana's life with me getting inspired to get out there again. I applied and was chosen for a weight loss challenge and met the wonderful ladies of Dutchess County Stroller Strides. I lost weight. I gained muscle. I started running. I am not going to lie. I dont love running. I have a big bust (had) and asthma..so running can be painful. But it was working and I loved feeling healthy and eventually I got here this past July (my first mud run):
I felt great. Finishing my first run was wonderful!! And there are so many more to come. And so much more to come. So that is my journey to this past summer and finding Revolt. And the rest is pretty recent history....so you can follow my healthy links to see more photos and find out my numbers and such.
Or follow the links here:
End of Revolt Week 2
Revolt Week 3 Recap
Week 4
Week 5
and so forth. All of the links are in the Healthy Links in the bar at the top of the blog :)
As it stands today (and I will make a post for my beginning stats) I have lost many inches, and some weight but most importantly I am strong. Strong and healthy. I eat clean. I workout almost every day. And I am about to embark on an adventure trying out new things.
So follow my journey...there is so much more to come!!
Me . on NYE 2014 Jan 1. Strong and fit and ready to go. Sz 6 132 lbs.

XO, Z