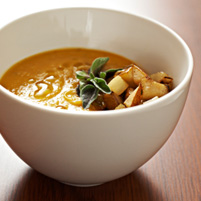 Dear Readers:
This is one of the easiest and most used recipes I make here in the Lee Household during the fall and winter. I love any kind of squash and this pairs so well with a crisp salad or buttery homemade bread. I use already peeled and cut butternut squash to cut down on prep time. Feel free to boil, peel and cut up the squash beforehand!
Yummy Homemade Butternut Squash and Apple Soup (taken from The Healthy Kitchen Andrew Weil and Rosie Daley):
1 large winter squash (about 2 1/2 pounds), such as butternut, buttercup, or kabocha, peeled, seeded, and cut into 2-inch pieces.
2 medium onions, peeled and quartered
3 cloves garlic, peeled
2 tart, firm apples, peeled, cored, and quartered ( I used granny smith , I like them really tart)
2 tablespoons extra virgin olive oil
Salt and red chili powder to taste
4-5 cups vegetable stock
Instructions
Preheat oven to 400°F.

In a large roasting pan, toss the squash, onions, garlic, and apples with the oil to coat. Season well with the salt and chili powder. Roast, stirring every 10 minutes, until the vegetables are fork-tender and lightly browned, about 40 minutes.

Put half the vegetables with 2 cups of the stock in a food processor and purée until smooth. Repeat with the remaining vegetables and broth. Return puréed mixture to the pot. If the soup is too thick, add more broth.

Correct the seasoning and heat to a simmer.
Serves 4
Nutrients Per Serving:
Calories 274
Fat 8g
Saturated Fat 1g
(26% calories from fat)
Protein 17g
Carbohydrate 40g
Cholesterol 0mg
Fiber 11g