Ana is off to school in her Ann Loren cow outfit and new backpack!
Hello Dear Readers:
The time has come and we are super ready for it. Ana is off to school.
On Monday, we headed over to the Nursery School and brought her to her classroom for a half day (to ease her in). Before we left the house we took our first day of school photos, and a filling breakfast. Once at the school, Ana settled in quite nicely in front of the play dough and quickly forgot Mama and Daddy were there. I left quietly (in silent tears) and 2 tissues later, I was fine.
Tuesday and Wed, I dropped her off for her full half day fun, and both times we went straight to the playgrounds (amazing). They are so nicely made and offer so many opportunities for creative play and outdoor fun. From her teacher's reports Ana is cooperative and is having fun. She seems to be fine socially and every time I pick her up, she does not want to leave and is engaging in play with one or another of her cute toddler playmates. I think she is going to be fine, and I have accepted this time to myself too. I shopped (more on that soon), had a coffee and even read my book). Soon, I will be blogging and setting up the home recording studio. It will be fun,even though I miss her. She was my constant companion and I miss her singing , dancing and fun filled energy.
From Monday on I have started a new photography project which I will be posting here and hosting at photobucket. I am going to make a time laspe school day video with one daily photo pre or post school (or weekday/weekend fun) I started Monday, and hope to run it for 15 years!! Wish me luck :) Here is the first photo, our first day of school , 2013.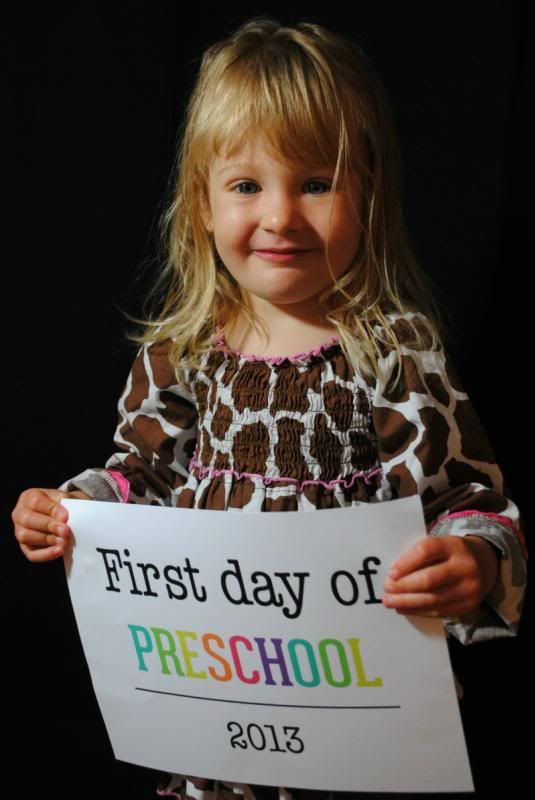 At home in the new studio