So last night I made a list of all the things I needed to do to prepare myself for this new regime.
Slowly, I have been going through my clothes, and picking out items that are already too big (Bye Bye double digits, I am a size 8 now). One of the benefits of losing a large amount of weight will be the new clothes..OH I CANT WAIT!!! Mentally, I have already pictured myself in skinny Seven jeans, some skyscraper heels and new silk dresses, and a brand new suit. Something black. And pinstriped. Sexy, like Lipstick Jungle sexy!!
My first major cleanse, or purge, came in the form of gathering up all the "junk" that has been cluttering our pantry. Hubby claims we didn't have much "junk", but I took a photo to prove otherwise: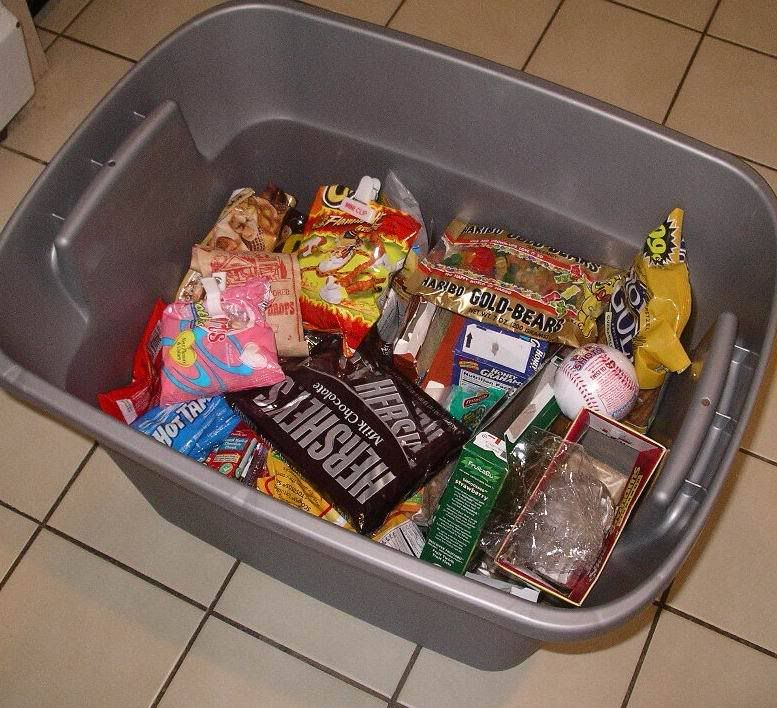 Where did all that candy come from?? Halloween Past? Secret Craving Stashes?
Closeup:
Hubby is going to hide the box, and hopefully the junk is gone for good!!!
The second thing I put on my list, was to note my favorite foods and have small tastes of them. I especially love sweets, so strawberry pancakes, Pinkberry, Soft ice cream, Muffins and Pizza top the list. It will be difficult to completely give them up for life, so I need to find substitutions, or ways to incorporate the foods in a healthy way. Already, I have fallen for Lean Cuisines french bread pizza, and their butternut squash ravioli. YUM!
The third, is that I do not want to ignore my friends, or social activities because I cannot partake in partying. I still want to go to happy hour, fashion events, and parties, and need to figure out how to avoid naughty happy hour foods, and alcohol. I have given alcohol up entirely for the time being, and to tell you the truth it is not that much of a sacrifice. I have never been a big drinker, but do appreciate a good sour apple martini, or pomegranate drink once in a while. This may be a permanent decision, I am not sure yet.
I am sure the list will get longer on changed behaviors, and life choices. For now, I am just taking this one day at a time. Having a clean house, empty of junk will help immensely!!
XO,
Zoe